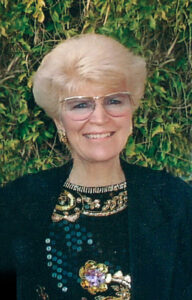 Nancy Missler, founder of The King's High Way Ministries, has asked for prayer after receiving a diagnosis of cancer. This page has her original request and will carry all updates on her situation.
If you would like to send a greeting to Nancy, please use this email address: response@kingshighway.org. While she will not be able to respond, please know that Nancy will certainly appreciate seeing your message.
Along with this page, we will be sending updates to our email subscribers, too. If you would like to be on our mailing list (you can unsubscribe at any time) please use the form on the right side of the page. Above all, please join us in praying for Nan and her family.
---
UPDATE 13 – May 7, 2013 – Letter from Nan!
Wow!
How do I describe the last three months?  As Charles Dickens said, "They have been the best of times, they have been the worst of times."
The Best…I now have life, my life has been saved:  The cancer (malignant melanoma in my mucus membrane) has been removed.  So I thank God with all my heart for the life He has restored to me, and I pray that He will use it as He desires.
The Worst…the agony that I've been in these last three months has been un-imaginable.  The first doctor that I saw told me that if it was his 75 year old mother, he would NOT recommend the operation because of the excruciating pain it would entail.  And another doctor said that, "If you don't let them take your nose and surrounding area of your face, you will literally have 2 months left to live."  So I believe with all my heart, that without your prayers, I would not have made it through.
I have not been able to write, because I cannot prop my glasses on my nose, but have to hold them up to my eyes with one hand.  Even now, I am dictating this letter to my daughter to type.  I have read all your emails and they have blessed me and kept me going when I just wanted to give up.
Thank you all for taking the time to write, quote scripture, and share stories, all of it has helped me keep my eyes on the Lord.
I am still facing possible radiation and chemotherapy, etc… but the "Big" stuff—surgery and reconstruction, are hopefully behind me.  God truly has held my hand through all of this and has ministered to my heart.  HE has been waking me up at night with words of hope to get me through all the pain.  With all the surgeries on my nose, my prayer is that I would be able to support my glasses soon, so I can finish my book on Hope.  We have decided to call it, "Hope Against  Hope" (Rom 4:18) as much of it will be based on my own personal experience.  I will describe more of the fascinating details of the procedure, it is truly a miracle.
I love you all … and thank you for helping me make it through this difficult ordeal.  May God be praised and may all His purposes one day be known.  Job 19:25 "For I know that my redeemer liveth, and that he shall stand at the latter day upon the earth."
Agape,
Nan
P.S. A note from Debbie—
…I was just in contact with Nan and she wanted me to let you know that she's had a huge breakthrough with the intense pain in her head.   At this time, the excruciating headaches have subsided and she has had an amazing energy boost.  (More energy than she's experienced in a long time.)  Praise the Lord!!!    Thank you for your continued prayers…
UPDATE 12 – April 22, 2013
We just heard from Chuck regarding Nancy's surgery this morning.   The doctors said that phase 2 of the reconstruction went beautifully and according to plan.  They are very pleased with the outcome.  Nan will be recovering throughout the night at the hospital, and, if all goes well, she will be released tomorrow.
When I spoke with Nan yesterday, she told me that she was able to feel the end of her nose and that it didn't feel like a "clown nose" anymore.   What a miracle!
Thank you for your continued prayers for our dear sister.
As we know more, we will keep you updated.
O give thanks unto the LORD, for [he is] good: for his mercy [endureth] forever. (Psalm 107:1)
Agape,
Debbie
KHW Ministry Director
UPDATE 11 – April 20, 2013
Praise God that Nancy has had a couple of weeks to recuperate and is feeling much better.  She has been able to sit for short periods of time and read all of your emails.  The words of encouragement, prayers and love that she felt from everyone helped in her recovery and blessed her beyond words.
On Monday, April 22nd, she is having "phase 2" of reconstructive surgery done on her nose.   The doctors don't expect it to be as long and drawn out as the first surgery.  They are anticipating that there will be no problems and that her surgery will be very successful.  But, please pray.
Also, pray that her body does not reject the new cartilage or septum that she received in "phase 1" of her reconstructive surgery.   That would be horrific…but, so far everything looks wonderful.    We will keep you posted as soon as we know more after the surgery on Monday.
With much Agape,
Debbie
KHW Ministry Director
UPDATE 10 – April 8, 2013
I was able to speak with Nancy last Friday and Chuck today.   Everything is going according to plan and the surgery on her nose looks wonderful.  She had her "bandages" changed and is finally able to breathe out of her nose.
The plastic surgery was very extensive and many new procedures were used.  In fact, doctors from around the world are watching and learning from her surgery.
The greatest concern was that her nasal area would not reject the new septum and cartilage that was put in and that there would be no infection.  So far, things are looking great.
Because of the bandages over her nose and the sensitivity to her face, she's not able to wear her glasses.  So she's basically been blind.  She relies on them to see close up and far away.   The family did manage to make her some make-shift glasses that she can wear for about 10 minutes so she can see at a distance.
Her next surgery is scheduled for April 22nd with the same plastic surgeon.  We will keep you updated with any new information as it comes to us.
Again, thank you for your prayers, the warfare has been intense.  Nan really believes that without the prayers from everyone she would have lost hope.
Agape,
Debbie
KHW Ministry Director
UPDATE 9 – March 29, 2013
We heard from the family last night and this morning. Nan's surgery went according to plan.  The surgery lasted for over six hours and she was in the recovery room throughout the night.   The plastic surgeon was very encouraged by the results and how well everything went.
Right now, she is resting in her room but in a lot of pain and exhausted.
Thank you for your continued prayers.  Words can't express how much they have meant to Nan. Multiple people have been awakened in the middle of the night to pray.   Many of you have been fasting.  Families and Bible study groups from around the world have been praying.  Individuals have been given Scriptures to pray and beautiful words of encouragement.  It's so beautiful to see "The Body of Christ" working the way God intended.
Thank you, again, for your outpouring of love; Chuck and Nan are so blessed and appreciative.
Agape,
Debbie Holland
KHW Ministry Director
UPDATE 8 – March 27, 2013
The outpouring of love and prayer continue to overwhelm all of us here at the ministry.    We've been moved to tears and have had our spirits lifted with your emails of encouragement.
Nan's surgery is still scheduled for Thursday March 28th.  Thank you for your continued prayers on her behalf.
Agape,
Debbie, Tim, Lori, Kathryn and Davey
PS…The King's High Way Ministries is known for Agape–God's Love.   Holy week is a time where we reflect on and consider the death and resurrection of Our Lord and Savior, Jesus Christ.  We've had some new insights on God's Agape Love that we put into a short 3 ½ minute devotional.   We pray this will encourage you in your walk with the Lord this week.
UPDATE 7 – March 25, 2013
First of all, we want to say thank you for all the beautiful prayers, words of encouragement and love that you've shown to our beloved Nan.   She is in awe of the outpouring of concern that people have shown to her and Chuck.
Since the last update, the doctors were able to get the blood flow under control and part of that process involved removing the temporary stints from the back of her nose.  The original plan was that they would start radiation treatments this week, but because the stints had to be removed, and other complications, the plan changed.
The doctors have decided to go ahead with the reconstructive surgery this Thursday, March 28th.   The plastic surgeon who will be doing this procedure has been a nose doctor for over 26 years.  Apparently, the type of reconstruction that Nan needs is something he's never done before, but he feels very confident that everything is going to go great.
Currently, Nan is resting and recuperating at a home near the hospital.  I've done my best to forward every one of your emails to her.  When she has a chance, she tries to read a few at a time. They have ministered and blessed her beyond words.
Again, thank you for your prayers.
Agape,
Debbie Holland
KHW Ministry Director
UPDATE 6 – March 19, 2013
We just heard from the family that Nan has been taken to the emergency room several times throughout the last two days. They are having difficulty stabilizing the bleeding from her surgery.  This has added to the pain she is already experiencing.
Please pray for wisdom for the doctors and that Nan's pain would be controlled.
Now may the God of hope fill you with all joy and peace in believing, that you may abound in hope by the power of the Holy Spirit.      (Romans 15:13)
Agape,
Debbie Holland
KHW Ministry Director
UPDATE 5 – March 14, 2013
Moments ago I just spoke to Nan from her hospital bed at home.  Yes…at home!!
The results came back from the lab this afternoon and Praise God—they got all the cancer!
Nan wanted to thank each and every one of you who are praying because she said, "It was your prayers that got her through."  Especially Tuesday night…  She was in surgery at 7:00 in the morning and didn't get into her room until late in the evening.   Throughout the night the warfare was intense — emotionally, mentally and physically — it was beyond anything she has ever experienced in her life.  But in the midst of her hopelessness, she had a wonderful encounter with the Lord.   HE gave her three pages of notes to add about "His Hope" to her new book.
Radiation treatments to her nose will begin in 2 weeks, then reconstruction following.  Please pray for the plastic surgeon because most of the procedure work that needs to take place has never been done before.  We will keep you posted because your prayers are vital.
Chuck and Nan, their family, the staff at The King's High Way and Koinonia House want to thank all of you for all the outpouring of love and encouragement you've shown.
But let all those rejoice who put their trust in You; Let them ever shout for joy, because You defend them; Let those also who love Your name be joyful in You.   Psalm 5:11
Agape,
Debbie Holland
KHW Ministry Director
UPDATE 4 – March 13, 2013: 4:45 pm PDT
All the staff at The King's High Way Ministries appreciate the hundreds and hundreds and hundreds of you on every continent who have been praying and fasting for Nan.
Both Chuck and Nan have said that they want to thank you for your outpouring of love and prayer.
The doctors were quite pleased overall with the surgery, but there are a number of important decisions needed now, some unexpected.
Nan had a rough night last night because of pain, and it is still an issue for her now. We covet your prayers for our dear Nan! May each of us experience what Paul wrote about in Colossians 2:2a,
…that their hearts may be encouraged, being knit together in love…
Agape,
Debbie Holland
KHW Ministry Director
UPDATE 3 – March 13, 2013:  10:41 am PDT
Moments ago we had our first report about Nan. She's out of surgery but in much pain and needs our prayers. As soon as we know more, we'll let everyone know.
UPDATE 2 – March 11, 2013
Nancy will be among the first into surgery tomorrow (Tuesday) morning. Please pray for her, for her family, and for her surgery team. You might also want to watch a short video we did as preparation for prayer.
The effectual fervent prayer of a righteous man availeth much.   (James 5:16b)
UPDATE – March 8, 2013
We just received news from Nan.
1. The Mayo Clinic has accepted her as a patient. The doctor who saw her earlier will continue as her doctor.
2. Her insurance OK'd her for the surgery. It has been scheduled for Tuesday, March 12th.
All of us at The King's High Way Ministries want to thank everyone who has sent prayers and encouraging notes to Nan.  Please know every one of them was forwarded to her.
Nan wrote back and said, "I am over whelmed with all the responses!  Wow!  I feel very loved and prayed for."
Please continue in prayer for our beloved Nan.   We will keep you updated.
Agape,
Debbie Holland
Director of Ministries- KHW
March 5, 2013
Dearest Ones!
Thank you, thank you, thank you for your love, your support and your prayers for me, my family and the ministry.  We have all felt your prayers and what a God-send you have been. "May the Lord return the blessing you have been to us, a hundredfold."
I'll bring you up to date as best I can, as the story continues to unfold… How quickly our lives can change…from a beautiful, serene "paradise existence" in New Zealand to a wild ride here in the states with an ending that only the Lord knows.
Three weeks ago, while visiting my family, my daughter saw a lump on my face and made me go to the doctor (I'm not good at doing that).  The doctor was concerned and sent me to an ear, nose and throat specialist, who took a biopsy of the lump and found it to be a malignant melanoma in the sinus part of my nose (in the mucous lining inside my nose, which evidently is very rare–1 in 100,000).  That doctor then sent me to a surgeon who gave us a very bleak prognosis:  literally take my face off (my nose and any other area where the tumor has already spread), followed by radiation and chemo.  He said that if I did nothing, it could be fatal in just a few months.
Wow! What a blow!!!  Again, how quickly our lives can change.
But, if we belong to the Lord, He is always involved in everything.  Right!!  So, here's the miracle part of the story.  Yesterday we saw a radiology specialist (radiation won't necessarily eradicate the tumor, but it will slow it down considerably).  In the middle of the conversation, he asked if I wouldn't mind his talking to a "colleague" of his about the situation.  This "colleague" happens to be one of the chief endoscopic surgeons at Mayo Clinic (one of the best hospitals in the U.S.)  Of course, I said "yes, please do."
So, the miracle is that there is a remote possibility that Mayo Clinic might accept me as a patient (because my cancer is so rare).  There are still some huge hurdles to jump over (like I don't have the right insurance, etc.), but again if God is involved and He wants me there, an exception will be made.  So, I would really, especially on this matter, appreciate your prayers.  What a wonder that would be and so like our precious Savior!  I will keep you posted…
On a ministry note, as many of you already know, I am still in the middle of writing the book on "hope." (Hope, the Anchor of our Soul).  Isn't it so like the Lord to have us personally experience everything we are writing about, because we really can't share thoroughly on a subject, unless we have first "lived it."  Well, my physical situation is, at the moment "impossible" (hopeless) by the world's standards, but with the Lord involved, there is always hope!  So this book is going to be a very personal journey of what the Lord does in my own life.  Truly, He is the God of Hope…
"Happy is he that hath the God of Jacob for his help, whose hope is in the Lord his God…" (Ps. 146)  I love you all and again, thank you for your continued love and support… "I thank my God upon every remembrance of you."  (If you can, read all of Philippians 1.  It's such a blessing and exactly what God is trying to do in all of our lives.)
Agape,
Nan
---
Philippians, Chapter 1
Paul and Timothy, bondservants of Jesus Christ,
To all the saints in Christ Jesus who are in Philippi, with the bishops and deacons: Grace to you and peace from God our Father and the Lord Jesus Christ.
I thank my God upon every remembrance of you, always in every prayer of mine making request for you all with joy, for your fellowship in the gospel from the first day until now, being confident of this very thing, that He who has begun a good work in you will complete it until the day of Jesus Christ; just as it is right for me to think this of you all, because I have you in my heart, inasmuch as both in my chains and in the defense and confirmation of the gospel, you all are partakers with me of grace.
For God is my witness, how greatly I long for you all with the affection of Jesus Christ. And this I pray, that your love may abound still more and more in knowledge and all discernment, that you may approve the things that are excellent, that you may be sincere and without offense till the day of Christ, being filled with the fruits of righteousness which are by Jesus Christ, to the glory and praise of God.
But I want you to know, brethren, that the things which happened to me have actually turned out for the furtherance of the gospel, so that it has become evident to the whole palace guard, and to all the rest, that my chains are in Christ; and most of the brethren in the Lord, having become confident by my chains, are much more bold to speak the word without fear.
Some indeed preach Christ even from envy and strife, and some also from goodwill: The former preach Christ from selfish ambition, not sincerely, supposing to add affliction to my chains; but the latter out of love, knowing that I am appointed for the defense of the gospel. What then? Only that in every way, whether in pretense or in truth, Christ is preached; and in this I rejoice, yes, and will rejoice.
For I know that this will turn out for my deliverance through your prayer and the supply of the Spirit of Jesus Christ, according to my earnest expectation and hope that in nothing I shall be ashamed, but with all boldness, as always, so now also Christ will be magnified in my body, whether by life or by death.
For to me, to live is Christ, and to die is gain. But if I live on in the flesh, this will mean fruit from my labor; yet what I shall choose I cannot tell. For I am hard-pressed between the two, having a desire to depart and be with Christ, which is far better. Nevertheless to remain in the flesh is more needful for you. And being confident of this, I know that I shall remain and continue with you all for your progress and joy of faith, that your rejoicing for me may be more abundant in Jesus Christ by my coming to you again.
Only let your conduct be worthy of the gospel of Christ, so that whether I come and see you or am absent, I may hear of your affairs, that you stand fast in one spirit, with one mind striving together for the faith of the gospel, and not in any way terrified by your adversaries, which is to them a proof of perdition, but to you of salvation, and that from God. For to you it has been granted on behalf of Christ, not only to believe in Him, but also to suffer for His sake, having the same conflict which you saw in me and now hear is in me.
We just received news that her insurance OK'd her for the surgery and it has been scheduled for Tuesday March 12th.   
All of us at The King's High Way Ministries want to thank everyone who has sent prayers and encouraging notes to Nan.  Please know everyone of them was forwarded to her. 
Nan wrote back and said, "I am over whelmed with all the responses!  Wow!  I feel very loved and prayed for."
Please continue in prayer for our beloved Nan.   We will keep you updated.  
Agape,
Debbie Holland
Director of Ministries- KHW