We are collecting links and product recommendations on this page to help you in your study of the Bible. Information about Bible study is also available in our section, Know Your Bible?
5x5x5 Bible Reading Plan

This is a way to read through the New Testament in 5 minutes a day, 5 days a week, with 5 ways to dig deeper. It comes from NavPress at no cost.
The BLB project states that their mission is to, "facilitate in-depth study of God's Word through an on-line interactive reference library continuously updated from the teachings and commentaries of selected pastors and teachers who hold to the conservative, historical Christian faith." Their service is free.
This is a program that you can download at no cost, or for a donation.  It has several versions of the Bible, commentaries, scholar's tools, and a search program.  If you like working on a computer, this may become your favorite Bible for individual study.

Study Materials from Chuck Missler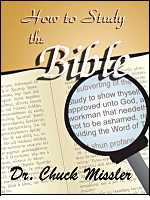 How to Study the Bible
This is a DVD that Chuck did to answer questions that usually come up concerning a study. Questions like, "Which Translation is Best?", "Which Commentaries and other aids are useful?", "How do I resolve a difficult text?"
It is an excellent resource for those who are just starting, or those who wonder what kinds of books a teacher like Chuck relies upon.
A Walk Thru the Bible
This is a set of 2 CD's recorded by Chuck to provide an overview of the Bible. He explains how integrated the entire Old and New Testaments are in an upbeat manner.
"…66 books, penned by 40 authors over thousands of years, yet now discovered to be an integral whole with an origin from outside our time domain."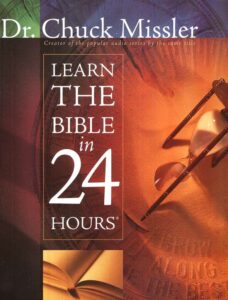 Learn the Bible in 24 Hours
This book uses sound scientific facts, historical analysis, and Biblical narrative, Chuck Missler provides us with an accurate understanding of Scripture's relation to itself, to us, and to the world at large.
"In just twenty-four hours you can have a rock-solid foundation for a lifetime of spiritual enrichment."