Chuck Missler
Chuck and Nancy Missler were both raised in Southern California. Chuck demonstrated an aptitude for technical interests as a youth. He became a ham radio operator at age nine and started piloting airplanes as a teenager. While still in high school, Chuck built a digital computer in the family garage. His plans to pursue a doctorate in electrical engineering at Stanford University were interrupted when he received a Congressional appointment to the United States Naval Academy at Annapolis. Graduating with honors, Chuck took his commission in the Air Force. After completing flight training, he met and married Nancy.
Chuck made the transition from the military to the private sector through a large aerospace firm and later a non-profit think tank. During that time, Chuck earned a master's degree in engineering at UCLA, supplementing previous graduate work in applied mathematics, advanced statistics and information sciences.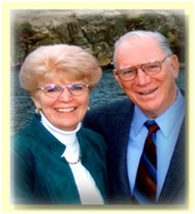 Chuck's career since then included working at the Ford Motor Company, starting his own company, a computer network firm, private consulting.
As Chuck notes, his day of reckoning came several years ago when — as the result of a merger — he found himself the chairman and a major shareholder of a small, publicly owned development company known as Phoenix Group International. The firm established an $8 billion joint venture with the Soviet Union to supply personal computers to their 143,000 schools. Due to several unforeseen circumstances, the venture failed. The Missler's lost everything.
It was during this difficult time that Chuck turned to God and the Bible. As a child he had developed an intense interest in the Bible, and studying it became a favorite pastime. In the 1970s, while still in the corporate world, he had led weekly Bible studies at the 30,000-member Calvary Chapel Costa Mesa, in California. As a result of all of this, he and Nancy established Koinonia House in 1973 a non-profit publishing ministry.
Chuck had enjoyed a longtime, personal relationship with Hal Lindsey, who upon hearing of Chuck's professional misfortune, convinced him that he could serve the Lord as an independent author and speaker. Over the years, Chuck had developed a loyal following. (Through Doug Wetmore, head of the tape ministry of Firefighters for Christ, Chuck learned that over 7 million copies of his taped Bible studies were scattered throughout the world.) Speaking became Chuck's full-time profession.
After several decades of creating, developing, and distributing educational materials for those who take the Bible seriously, the Koinonia Institute was developed in 2005 as an affiliated ministry to K-House. The Institute is committed to a program of lifelong learning—exploiting the Internet—and the creation and development of an intelligence network among its members.
Chuck and Nan have four grown children, one of which has gone to be with the Lord. They have eight grandchildren.
Nancy Missler
Nancy has loved the Lord for over 55 years. She asked Christ to come into her life in 1957 at Hollywood Presbyterian Church in Los Angeles. That same year, while attending UCLA, Nancy met and married Chuck, an honor graduate of the U.S. Naval Academy.
After almost 20 years of marriage and four children, they appeared on the "outside" to have it all: challenging careers, beautiful home and family and many of the trappings of an extremely successful lifestyle. On the "inside" however, despite their strong commitment to Christ, events occurred that caused their marriage to fall apart. Nancy attended marriage seminars, read many self-help books and had everyone she knew praying, but nothing seemed to change and they appeared destined for divorce. Before taking such a drastic action, Nancy began to personally search the Scriptures for the answers to her broken heart. As she started practicing what the Lord revealed to her, a sequence of events began that revolutionized their marriage!
Nancy wrote about the miracle of her healed marriage in her first book, Why Should I Be The First to Change? She followed this with The King's High Way Series : The Way of Agape , Be Ye Transformed and Faith in the Night Seasons.
These Bible Study courses cover such topics as: What is God's Love and how is it different from human love? How can we genuinely love the difficult people in our lives? What does it mean, in the practical sense, to be transformed by the renewing of our minds? And, how can we continue to have faith in God when everything in our lives falls apart.
These three books are simply a chronology of Nancy's own walk with the Lord-through a broken marriage, through bankruptcy, through a 6.8 earthquake, through the loss of her home, and finally, through the sudden and unexpected death of her first born son, Chip. Each title includes a 350 page textbook, a workbook, an audio series and for group study, a DVD series.
As Nancy began to share the insights, requests began to come in from around the world to speak. Over the past 30 years, she has spoken at hundreds of seminars throughout the United States, as well as Europe, Australia, Singapore, Israel, Thailand and New Zealand. She has also appeared many times on national television and given hundreds of radio interviews.
One of Nancy's endeavors, The Plain and Simple Series , is designed to make the road toward God and a relationship with Him practical – plain and simple. Besides Why Should I Be The First To Change, titles in this series are: The Key, The Choice, Against the Tide, Tomorrow May Be Too Late and Never Give Up.
Another series, In His Likeness, includes these titles: Private Worship: The Key to Joy and Reflections of His Image: The Purpose of Your Life. There is also a DVD in this same series called Re-Igniting the Passion.
Nancy next wrote The Kingdom, Power and Glory: The Overcomer's Handbook. Chuck had a special interest in this material and collaborated with Nan in the second edition, and it's now an entire series. The book focuses on the importance of our own personal accountability before the Lord (as Christians) in preparation for ruling and reigning with Christ in the coming Millennial Kingdom. Also available within our book and Bible study series are study guides, leader's guides, audio CDs and DVDs
Her latest book, Hope Against Hope includes her walk with the Lord as she has faced cancer. The truths she has come to experience are the fruit of her very intense experience.
For the past 13 years, Nancy has been involved in The King's High Way Ministry which not only produces all the above products, but also is dedicated to encouraging and teaching Christians how to walk out their faith. It focuses on the 'practical application' of Biblical principles.
Besides writing books, Nancy is a grandmother to eight. She and Chuck travel extensively through their respective ministries and are still enjoying that 'miracle marriage' that God created so many years ago. They have been married for over 50 years!