---

Here's a fun little video we did with Toby Mac's song,
"Love Is In The House".
[weaver_youtube id=WsHSZ9y41AI percent=100% center=0 rel=0 modestbranding=0](used with permission)
---
Love Suffers Long
The first phrase in
I Corinthians 13:4 is translated as either
"Love (Agape) suffers long" or
"Love (Agape) is kind."
If we go back to the original language, Greek, we find that the word is "makrothumeo" (μακροθυμέω).
The Strong's number is G3114.
Thayer's Greek Lexicon gives this definition.
1) to be of a long spirit, not to lose heart
1a) to persevere patiently and bravely in enduring misfortunes and troubles
1b) to be patient in bearing the offenses and injuries of others
1b1) to be mild and slow in avenging
1b2) to be longsuffering, slow to anger/punish
January 2015
Hope Against Hope, Part 3
by Nancy Missler
God continually tests our faith to see if we trust Him. He continually asks us: Will you hope in Me when the unthinkable happens in your life? Will you, like Moses, hold up the Word of God when the enemy advances, or will you drop the Word and let the enemy come in like a flood?
Psalm 81 tells us that if we call on the Lord (if we trust Him and if we hope in Him) when we are in trouble He will answer us in the secret place of thunder. Do we believe Him? Will we trust Him in our difficult times?
As we mentioned in last month's newsletter, this secret place of thunder can be compared to the Valley of Baca or the Valley of Tears in the Old Testament. The Valley of Baca was known for its difficult terrain, its barrenness and its black shadows. Psalm 84 tells us that the faithful pilgrims who made it through the darkness of this valley, were able to turn the whole frightening experience around and make it into a "well of blessing." Scripture says that as a result, they went from "strength (in the Lord) to more strength (in the Lord)."
In this new series of articles on the subject of "hope," we will explore the basic question in all of our minds: How do we, in our most difficult times, "Lay hold of the hope that is before us"? (Hebrews 6:18)
Darkness from Above
The Valley of Baca and the Place of Thunder are among the many places in the Bible that speak about darkness. Darkness means an absence of light. In various contexts, darkness can mean something sinister, but there is also a darkness (an absence of light) that God allows. Listen to Isaiah 50:10:
Who is among you that feareth the Lord, that obeyeth the voice of His servant that walketh in darkness and hath no light? Let him trust in the Name if the Lord and stay upon his God.
Notice that the person being spoken of here not only "fears the Lord" but also "obeys His voice." Consequently, this Scripture is talking about a believer who is faithful and obedient. And yet, it says this saint still walks in darkness and has no light.
And, it's so true. Many of the trials that God allows into our lives come with an absence of light, i.e., they are absolutely confusing, bewildering and perplexing. Scripture sometimes calls them "the fire of testing." Psalm 66, for example, speaks about this and says that this is the time that God proves us and tests us as silver. If we understand what He is doing and how we are to endure the darkness and the fire, then we will come out as "gold" in the end. So, yes, God often allows darkness, afflictions and difficulties, but only with the purpose of renewing our strength and turning our difficult times into "wells of blessing."
The Presence of God in the Darkness
It's interesting because many, many Scriptures throughout the Bible associate God's presence with darkness and "a thick cloud." Consider Exodus 19:9, where God says to Moses: "Lo, I come to thee in a thick cloud." And Exodus 34:5: "And the Lord descended in the cloud and stood with him." And Exodus 40:38: "…for the cloud of the Lord was upon the tabernacle by day and the fire was on it by night." Even in the New Testament, John 12:29 says: "they heard the thunder in the cloud," speaking of God's voice, and they were fearful. (Luke 9:34)
These Scriptures seem to suggest that God's presence is simply obscured in darkness, so we must not think of "darkness" in itself as being something bad or fearful or scary. (Exodus 20:21; 2 Chronicles 6:1; Psalm 97:2) It's simply one of the ways that God manifests Himself.
Even in Solomon's Temple, the Scriptures say that the Holy Place was so filled with the cloud of God's presence that the priests were unable to minister. (1 Kings 8:10–11)
Consequently, it's important to understand that many of the times we are walking "closest to the Lord," we will experience His presence in the form of a cloud or darkness.
Just as the saints in the Valley of Baca and the Valley of the Shadow of Death experienced darkness, shadows and the cloud of His presence on their way to worshiping, we will often experience the same. But even in our darkness, He is always there. He promises never to leave us nor forsake us.
I do not believe, however, that God causes these night seasons or our valleys of Baca experiences; He just allows them and then uses them for His purposes. It's in the middle of these times that He asks us, "Do you trust Me?"
---
Join Us!
The HOPE Conference
---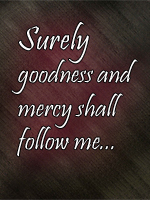 Take the Quiz!
See the verses above and below? Can you remember the full verse for either one?
Do you know the reference?
Give it a try, then look them up.
For extra credit you can come back in a few days and see if you remember!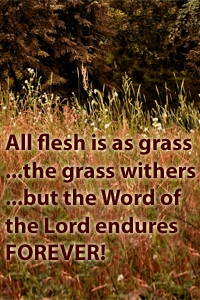 ---
Intercessor Notes
Click here to see our monthly devotional for intercessors.
---
More To Read
What Does It Mean to
Agapao God?
---
Links We Like
Koinonia House
E-sword
Bible Gateway
Blue Letter Bible
Christian News