---

Here's a fun little video we did with Toby Mac's song,
"Love Is In The House".
[weaver_youtube id=WsHSZ9y41AI percent=100% center=0 rel=0 modestbranding=0](used with permission)
---
Love Suffers Long
The first phrase in
I Corinthians 13:4 is translated as either
"Love (Agape) suffers long" or
"Love (Agape) is kind."
If we go back to the original language, Greek, we find that the word is "makrothumeo" (μακροθυμέω).
The Strong's number is G3114.
Thayer's Greek Lexicon gives this definition.
1) to be of a long spirit, not to lose heart
1a) to persevere patiently and bravely in enduring misfortunes and troubles
1b) to be patient in bearing the offenses and injuries of others
1b1) to be mild and slow in avenging
1b2) to be longsuffering, slow to anger/punish
March 2015
The Key To Joy
by Nancy Missler
This month, The King's High Way Ministries brings back a 2005 article from Nan's book "Private Worship—The Key to Joy." We pray that God will bless you richly this year with the knowledge and revelation of His great grace for you.
---
Worship is the single most important thing a Christian can learn to do. Why? First of all, Scripture tells us that we become "like" what we worship (Psalm 135:18). So, if we want to become more Christ-like, we must learn to worship Him more. Worship is also important because it's the key to the Lord's presence and His joy (Psalm 16:11). And, finally, worship is important because it's the means by which we receive His strength to endure all that He allows in our lives (Nehemiah 8:10).
Worship, then, is really a two-way communication. We come into the Lord's presence by loving, adoring and exalting Him. He, then, makes Himself known by communicating His Love back to us. This, of course, results in inexpressible joy. This daily communion is what allows us to endure difficult circumstances. If we are hearing from the Lord, we can withstand anything. Thus, worship is the key to intimacy, the key to withstanding trials and the key to restoring the joy of our salvation. It is the most important thing a Christian can learn to do.
I truly believe if the body of Christ was really taught how to genuinely worship, it would revolutionize the church. Noah worshiped the Lord and, as a result, a brand new creation was born. Abraham built an altar and worshiped the Lord and a whole nation resulted. Moses worshiped the Lord and, because of his obedience, God freed an entire people from bondage. Men and women who truly learn to worship can change the world.
True Worshipers
Worship involves all of our mental, emotional and spiritual faculties, but the specific place we worship and express our love to the Lord is in our spirit. John 4:23–24 validates this, "The hour cometh, and now is, when the true worshipers shall worship the Father in spirit and in truth: for the Father seeketh such to worship Him. God is Spirit: and they that worship Him must worship Him in spirit and in truth."
One of the definitions of the word joy is "to join or to become one with." Joy, then, is the result of the union and the communion of our spirits. It's the result of coming into God's presence, catching on fire with His Love and being consumed by it.
Consequently, worship is not something we do just on Sundays or in church, but something we must learn to do every day, all day long. Again, look at the lives of Moses, Elijah, Samuel, Jeremiah, Daniel, Isaiah, John and Paul. These men didn't restrict their worship to just one day a week. No, they worshiped and loved the Lord continually, every day, all day long. And, as a result, some of them came to know the Lord "face to face," some were given incredible dreams and visions, and the glory of the Lord was seen in all of their lives.
Worshiping the Lord on a daily basis does not preclude our having more trials and temptations, but in fact necessitates it. Experiencing deeper consecration to the Lord usually requires even more refining. Our crown is always gained through the cross. The pattern seems clear: first, we are approved of by God; then we are tempted by many trials and tribulations; and finally, we receive our crown. If we know how to enter the Lord's presence and worship Him in the midst of our suffering, then we will receive "beauty for ashes" and the "oil of joy instead of mourning." (Isaiah 61:3)
Now more than ever before, we need to sanctify the Lord in the eyes of others. This simply means we must rejoice in the middle of our trials, so that Jesus will be glorified. Not hyping it up, but because of the intimacy we are experiencing with Him, letting that genuine joy show forth. God's Word promises that Jesus will never leave us nor forsake us, but that He will be at our right hand helping us through and bringing us to victory. If we really believe this, then we must walk it out. In other words, we must show others by our actions exactly what we believe. Our only responsibility is to trust the Lord enough during our trials to demonstrate His Life through us.
David Wilkerson comments on this in one of his recent newsletters. He says that no matter where we are in our walk with the Lord, we must "make a joyful noise unto Him." (Psalm 66:1; 98:4–6) He says if we don't, "the very stones [themselves] will cry out." (Luke 19:40)
---
The HOPE Conference
Has Been Canceled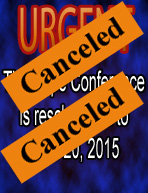 ---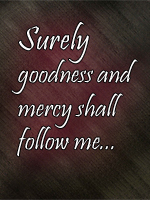 Take the Quiz!
See the verses above and below? Can you remember the full verse for either one?
Do you know the reference?
Give it a try, then look them up.
For extra credit you can come back in a few days and see if you remember!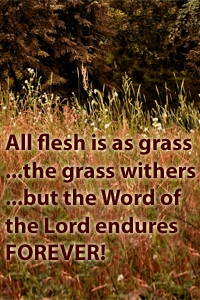 ---
Intercessor Notes
Click here to see our monthly devotional for intercessors.
---
More To Read
What Does It Mean to
Agapao God?
---
Links We Like
Koinonia House
E-sword
Bible Gateway
Blue Letter Bible
Christian News