Plain & Simple
Hi everyone!
This month we are featuring our Plain and Simple Series books which are designed to give hope and make the road toward God and a relationship with HIM easy and practical. These books are also small and compact—easy to carry.
On pages 65 and 66 of one book in the series called, "The Key – How to Let Go and Let God" Nancy writes about the importance of transparency in the prayer closet with God.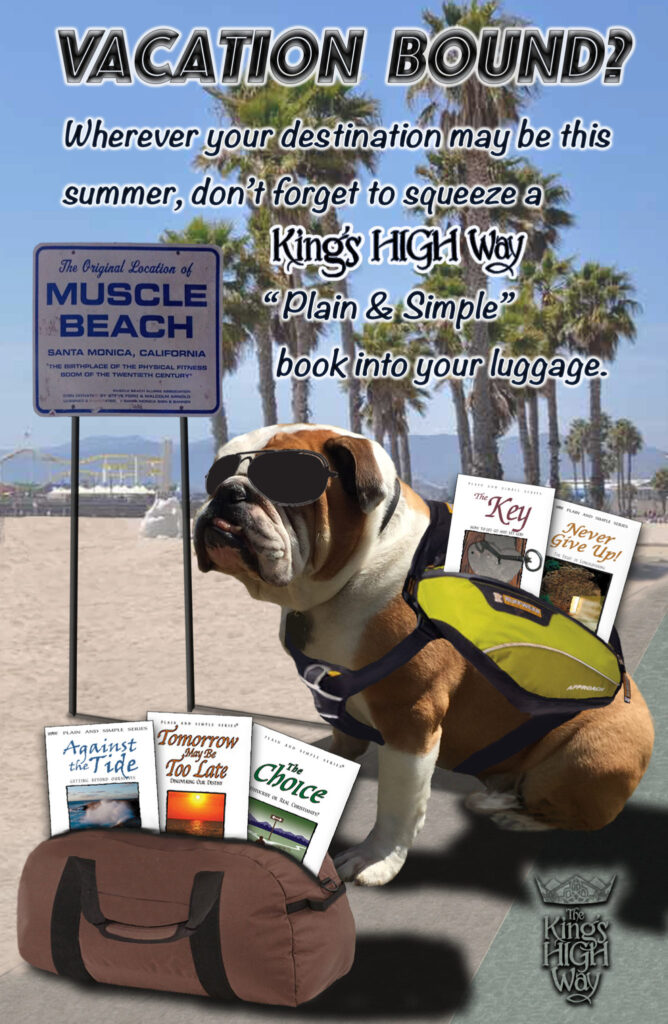 Here's an excerpt:
Acknowledging how we really feel, unfortunately, is one of the areas that the church has been silent about. Because of this, we have a whole body of believers who have been forced to put on facades and wear masks. And, of course, Satan rejoices.
This is why transparency in the prayer closet with God is so vital. Honesty with Him allows us to be real and genuine with others who then will be able to identify with us. It's not that we are striving to be perfect, but that we want to lead others to the One who is perfect and that, of course, is Jesus.
Oh, how I pray for more church leaders who can be living examples of what walking in the truth really means. How desperately this is needed in our body today.
This summer don't put your Christian walk on pause—but build upon the foundation of God's Word because we are a chosen generation. We are His end time disciples and there is truly no higher calling or greater purpose.
"But you are a chosen generation, a royal priesthood, a holy nation, His own special people, that you may proclaim the praises of Him who called you out of darkness into His marvelous light……"
                                                                        ~ 1 Peter 2:9 ~
Together for His Kingdom,
Debbie
---
Prayer Update
Dearest Intercessors,
Some recent events in my own life have given me greater appreciation and great thanks that we have a heavenly Father—our Abba, who is deeply compassionate, loving and all wise. I can trust in His unfailing love and rest in His unfathomable grace.
We know that many of you are also in the midst of difficult life circumstances and challenges that may seem beyond your ability to bear. Yet, you too, know the tender mercies of our Abba, our gracious Father, as you navigate the stormy waters of life. Jesus IS in the boat with us! He IS in control. I encourage you to remember that God really does work all things together for our good because we DO love Him and we ARE called according to His purpose.
One day soon, our Father will send his Son to gather His bride in that glorious event we call the Rapture. We long for Christ's appearing, as we imagine the great joy of seeing Him face to face and knowing that we will be in His visible Presence for eternity!
So as Father's Day approaches, we encourage you to continue to lift up your eyes to the ultimate Father who knows all about your circumstances, cares very deeply about your suffering and your weaknesses, and works all things for His glory and our growth. He is so very worthy of our love and trust, no matter what we are facing.
"So we fix our eyes on Jesus, the author and perfector of our faith, who for the joy set before Him, endured the Cross, despising its' shame and sat down at the right hand of the throne of God."
Blessings and the grace of God be with you dear friends.
In Our Father's Love,
The King's High Way Staff