Private Worship
Hi Everyone!
Oswald Chambers states, "A private relationship of worshipping God is the greatest essential element of spiritual fitness."
Last week I had the privilege of talking and praying over the phone with a dear lady, by the name of Carolyn, who came upon our website. An assignment was given by her pastor to find out what it means to worship the Lord. After praying and searching her heart, she went to the internet to find out what other Christians had to say on the subject. She ended up on our website where she was able to read the introduction and first chapter of Private Worship-The Key to Joy. She then downloaded the entire book… Below are a portion of her words that she emailed me:
I opened the PDF file and now I have to share with you. Out of all the searching I've been doing over the last week on "how do I worship God" I happened to end up on your web-site. After reading the first few chapters in the book—it was as if I was reading my own "right now" life story, even the part about having no joy! I am in awe and cannot believe that with just the little that I've read tonight, the questions I've had about my private relationship with the Lord are being answered…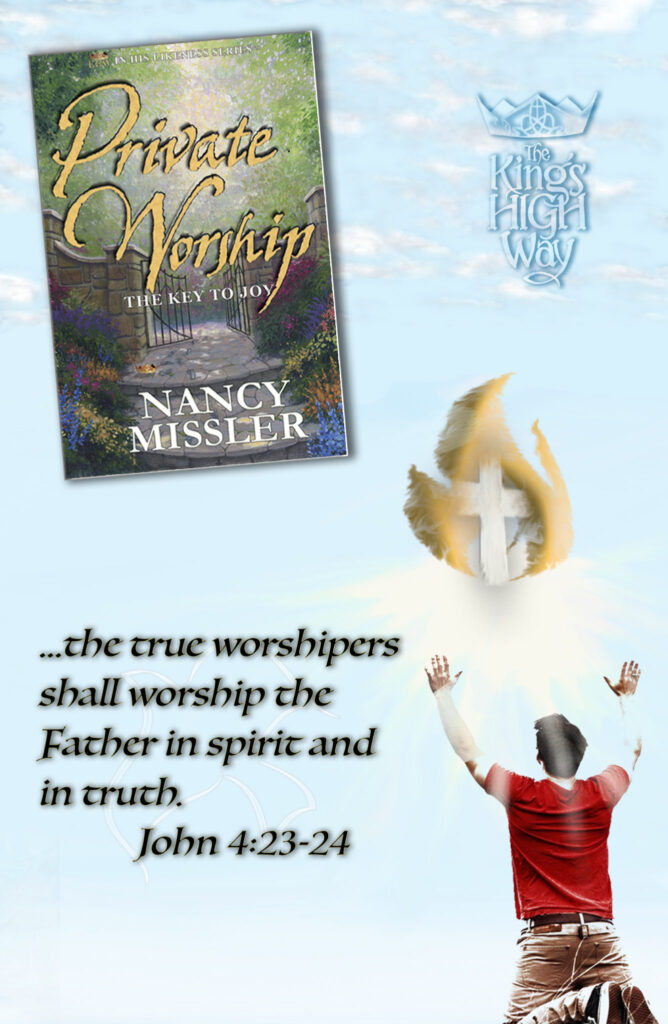 Over the years, I've read many testimonies, like Carolyn's, regarding our featured book. As Christians, understanding the purpose of why worship is so important should radically transform our relationship with the Lord. Because worship simply means–a divine encounter with God. Worship is the key to experiencing His presence, to knowing the indescribable joy of our salvation, and to reflecting His glory.
The other definition of worship that I personally love means to catch fire. When something catches on fire, it is literally consumed by it. This is exactly what happens in worship. We become consumed in our love for the Lord and one in spirit with Him.
By learning "how to" worship Him in the Spirit—not just on Sundays in church, but privately at home—every day, we will be able to experience the fulfillment and the joy that the world and everyone in it is so desperately searching for, but very few seem to have found.
Remember—in His presence if fullness of joy and we don't have to wait until we get to heaven in order to taste of it…
Agape,
Debbie Holland
Director of Ministries – The King's High Way
---
Prayer Update
Dearest Intercessors,
If ever we have desired to see a harvest of souls for the Kingdom of Christ, it is in these days of turmoil and Godless, humanistic philosophy, where good is being called evil, and evil called good.
Unfortunately, this cycle of the political process has brought that forward in an unprecedented way, making many feel simply disgusted with the entire system, and feeling there is no hope for America to turn from the downward trajectory that is so clearly upon us.
BUT GOD…..!!!! I cannot help but think of the account of the great city of Nineveh, and how God delayed judgment upon that city and people because finally, the reluctant prophet, Jonah, spoke out the message of repentance as the only way to avoid complete destruction.
As Christians we know that repentance and crying out to God is our only hope, and we are mindful that no political rhetoric, no special party, no movement or President can be the answer to this country's ills. God alone can intervene in this moment of history and turn this country back from complete destruction, and He will use whom He may choose to do that.
In addition to the repentance of unbelief in God as Creator, and worthy of worship, and the abmissmal moral decline of our culture, Scripture clearly states in Genesis 12:3, how we bless and support Israel is a primary key in how this Nation will fare in the future. And, as we know, we have a current administration that has betrayed the trust that Israel has had in us to be a faithful ally and defender of her right to exist. In considering the November election, we urge you to pray that God will put someone into office who will be a strong, genuine supporter of the state of Israel, and stand with her as a faithful partner, committed to her defense and not urging her to divide the land. After all, it does belong to God!
We know that this election is of historic significance, and we know that we desperately need a leader who looks to God Almighty for wisdom and understanding in the leadership of this country. Someone who will stand for righteousness, and will surround himself with wise and Godly counsel. May God have mercy upon this Nation and see fit to put that kind of individual in office for such a time as this.
God bless you intercessors as you pray for our Nation and for the requests in our letter. We love and appreciate you SO VERY MUCH!!! May our Lord richly bless each and every one of you! You are so precious to Him and to us! Together, we give Him all the glory!!
In Christ's Unchanging Love,
Kathryn Taylor and the King's High Way Staff