---

Here's a fun little video we did with Toby Mac's song,
"Love Is In The House".
[weaver_youtube id=WsHSZ9y41AI percent=100% center=0 rel=0 modestbranding=0](used with permission)
---
Love Suffers Long
The first phrase in
I Corinthians 13:4 is translated as either
"Love (Agape) suffers long" or
"Love (Agape) is kind."
If we go back to the original language, Greek, we find that the word is "makrothumeo" (μακροθυμέω).
The Strong's number is G3114.
Thayer's Greek Lexicon gives this definition.
1) to be of a long spirit, not to lose heart
1a) to persevere patiently and bravely in enduring misfortunes and troubles
1b) to be patient in bearing the offenses and injuries of others
1b1) to be mild and slow in avenging
1b2) to be longsuffering, slow to anger/punish
September 2014
Hope Against Hope, Part 2
by Nancy Missler
Hope is like a golden cord connecting us to heaven. The more we cling to this cord, the more we can allow the Lord to bear the weight of our burdens and to draw us closer to Him.
Have you ever felt hopeless? Have you ever felt like you are literally walking through the Valley of the Shadow of Death? Have you ever felt like you wanted to run, but there was nowhere else to go? You pray and you pray and you pray, but the Lord just doesn't seem to answer. Instead, everything gets worse and worse.
Over the next few months, I want to write some articles about the incredible blessings of HOPE. What hope really is; why it's so vitally important; and, how hope is our only "anchor" when everything else around us is crashing and burning. God is not only the Author of all Love, the Bible is also His message of "hope" to a dying world.
My motive for writing these articles is simple: I see hopelessness everywhere; not just in non-believers, but wide-spread in the Christian Body. And, since I am living in a similar hopeless situation right now, I want to use my own experience to help others walk through their difficult times without falling away, but instead letting those same circumstances push them even closer to the Lord.
Without hope, it's a proven fact we will become barren, infertile and totally lifeless, and the enemy will come in, kill our dreams and destroy our faith. I know, because I've recently been there! Proverbs 13:12 says without hope, our heart will become sickand no "fruit" will be produced in our lives. My prayer is that the Lord would use my words not only to help others "step out of the flame and into His Arms," but also help them turn their challenging situations into a "well of blessing." (Psalm 84)
Someone said to me recently: "You don't die if you lose your faith; but you do die if you lose your hope." And, oh, how true this is! Listen to a few other comments written to me in the past year about "hopelessness":
"My vision has been destroyed, so I have no reason to go on."
"I've lost my meaning, my purpose and my hopes and dreams, all at one time."
"I feel broken, torn, weak and lost. I know that God is the answer, but I don't seem to be able to reach Him anymore."
"I'm adrift, having lost my anchor, and yet, not knowing how to recover."
"What I have heard from the Lord is not what's happening in my life."
"I feel like Jesus did in Matthew 27:46 when He said: 'My God, my God, why have You forsaken me?' He tells us other places in the Bible that He will never leave us or forsake us. Where is He now?"
"Like Job, the thing I greatly feared has come to pass in my life."
Hope is like a golden cord connecting us to heaven. The more we cling to this cord, the more we can allow the Lord to bear the weight of our burdens and to draw us closer to Him.
Charles Spurgeon once said: "Hope…is like a star, not to be seen in the sunshine of prosperity, but only to be discovered in the night of adversity." From my own perspective, especially now, this is so true.
Like I mentioned in my article last month, I've wanted to write a book on "hope" for years. Three years ago, I completed my first draft, but after everyone read it, they all very politely said: "Something is still missing. It's not complete." So, I put it aside. One year ago, however, the Lord showed me exactly what it was that was missing in that first manuscript — "personal experience."
That was the day I was told I had a malignant melanoma in the mucous area of my nose (a stage three subcutaneous cancer, not a skin cancer) and only the removal of my entire nose area would save my life.
The doctor went on to say that if I did nothing, it would be fatal within a few months. Wow! Is there any more "personal experience" involving the loss of hope that one could have? My whole family was there and all of them burst into tears.
After praying and contemplating what the doctors had said, I decided that I had to make a choice. Either let God use the whole experience for good and share it with others; or, feel sorry for myself, go downhill and literally die. Thus, I thought there would be no better time (nor greater personal experience) than to finish the precious book that I began over four years ago… when life was going so smoothly. So, as I write these articles, bear in mind that the Lord is teaching me these very same things.
Hopelessness occurs when you pray and pray and pray and still nothing happens — nothing changes. In fact, just the opposite occurs. Everything continues to turn out against you. In my own situation, I got to the point where I didn't even know how to pray anymore. I had expected so many miracles to come out of my ordeal, but instead, everything backfired and turned downhill.
---
Join Us!
The HOPE Conference
---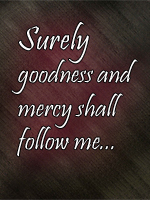 Take the Quiz!
See the verses above and below? Can you remember the full verse for either one?
Do you know the reference?
Give it a try, then look them up.
For extra credit you can come back in a few days and see if you remember!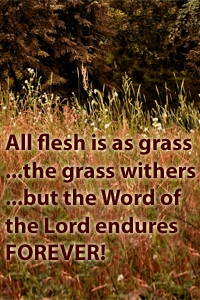 ---
Intercessor Notes
Click here to see our monthly devotional for intercessors.
---
More To Read
What Does It Mean to
Agapao God?
---
Links We Like
Koinonia House
E-sword
Bible Gateway
Blue Letter Bible
Christian News