---

Here's a fun little video we did with Toby Mac's song,
"Love Is In The House".
[weaver_youtube id=WsHSZ9y41AI percent=100% center=0 rel=0 modestbranding=0](used with permission)
---
Love Suffers Long
The first phrase in
I Corinthians 13:4 is translated as either
"Love (Agape) suffers long" or
"Love (Agape) is kind."
If we go back to the original language, Greek, we find that the word is "makrothumeo" (μακροθυμέω).
The Strong's number is G3114.
Thayer's Greek Lexicon gives this definition.
1) to be of a long spirit, not to lose heart
1a) to persevere patiently and bravely in enduring misfortunes and troubles
1b) to be patient in bearing the offenses and injuries of others
1b1) to be mild and slow in avenging
1b2) to be longsuffering, slow to anger/punish
September 2014
Hope Against Hope
by Nancy Missler
I'm so glad to be able to thank each and every one of you who have prayed for me this year. Thank you, thank you, thank you! I'm convinced I wouldn't be here if it weren't for your prayers.I also want to praise the Lord for all He has done for me over the past year and a half. It's been an incredible journey and I've learned so much more about His faithfulness.
It all began a year ago January (2013), when I was told I had "malignant melanoma" of a mucous area in my nose (not a skin cancer) and that if I didn't do certain things (like letting them take my face off) I would die within a few months. But the Lord had other plans for me and that's the story I want to tell you. I want to encourage you that if He can do these things in my life, He can also do them in yours.
My story begins four years ago when i set out to write a book on the subject of "hope," not only because i saw it as an essential part of the Christian life, but also because I saw many believers struggling in this critical area. So, it seemed like a very timely subject. It took me a year to write the first 300 pages, but even then I knew in my spirit that something was missing. It was not complete. Even when I took the manuscript into The King's High Way ministry for a review, they were all very sweet and kind, but told me the very same thing — "something is missing. It's not complete."
So I put the manuscript aside, prayed, and asked God to show me what exactly was missing. The Lord faithfully answered my prayer by showing me that what was missing from that manuscript was "personal experience." (I had written that first manuscript sitting on the shores of a New Zealand river, with no worries at all. Well, you can't write a book from your "head" –you need to have "personal heart experience" of the subject and I really didn't have that at the time.)
So God allowed me to go through my own Valley of the Shadow of Death so that I could personally experience what it means to have "hope against hope."
My Story
My new book Hope Against Hope will give you all the details of how I got the cancer, how Mayo Clinic heard about my case and agreed to take me as an experimental patient (because my kind of cancer was so rare — 1 in 100,00), how I've had three huge operations where they literally replaced the septum of my nose and gave me a new nose; and finally, how the melanoma has come back four or five times. But, in these articles for Personal Update I really wanted to concentrate on the part of the book that focuses on the subject of Hope — what exactly hope is; why it's so important, we we lose it and how we can regain it back.
But, before we start, I want to be totally up front with you. Please don't think of me as some kind of saint, a flawless or perfect Christian. Certainly, I am not! I've had so much pain and anxiety, discouragement and doubt, worry and confusion this past year, that like Job, I've cried out many times to the Lord, "Why have You forsaken me?" Like Job, I just didn't understand what was happening to me.
I had such huge expectations (remember the word EXPECTATIONS) of what the Lord was going to do through my illness (and because of all the prayers), that I was devastated when things didn't happen that way. I believed with all my heart that God would somehow do a "miracle" — either I would be supernaturally healed or I would lead many others to Christ or somehow lots of "fruit" would be produced. So, I was absolutely crushed when all these things didn't occur.
Rather than draw people towards the Lord, which is what we had hoped would happen, just the opposite occurred. Nurses kept getting ofended at us; doctorrs were often sarcastic and belittling and rather than develop a relationsip with these people like we wanted, they fled from us. It was so strange. It was like the enemy had this huge inroad and monstrous stronghold and he wasn't going to give it up for anything.
So in the midst of this spiritual battle, it became very difficult for me "to see" the Lord's Hand at work an to trust His faithfulness, which then affected my confidence that He was still involved and still working.
And, of course, I couldn't stand to look in the mirror.
---
Join Us!
The HOPE Conference
---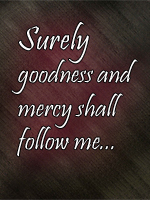 Take the Quiz!
See the verses above and below? Can you remember the full verse for either one?
Do you know the reference?
Give it a try, then look them up.
For extra credit you can come back in a few days and see if you remember!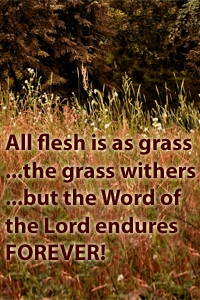 ---
Intercessor Notes
Click here to see our monthly devotional for intercessors.
---
More To Read
What Does It Mean to
Agapao God?
---
Links We Like
Koinonia House
E-sword
Bible Gateway
Blue Letter Bible
Christian News