Hi everyone,
Over four years ago, when Nan was in the beginning processes of writing her last book "Hope Against Hope" she came into my office and asked me if I knew the difference between faith and hope. I remember giving her my "off the cuff" answer which she told me was what she thought too. Like most of us, she believed that they were similar in definition–almost the same thing. This started her on the journey of researching and living out the differences between the meanings of each of these very powerful words.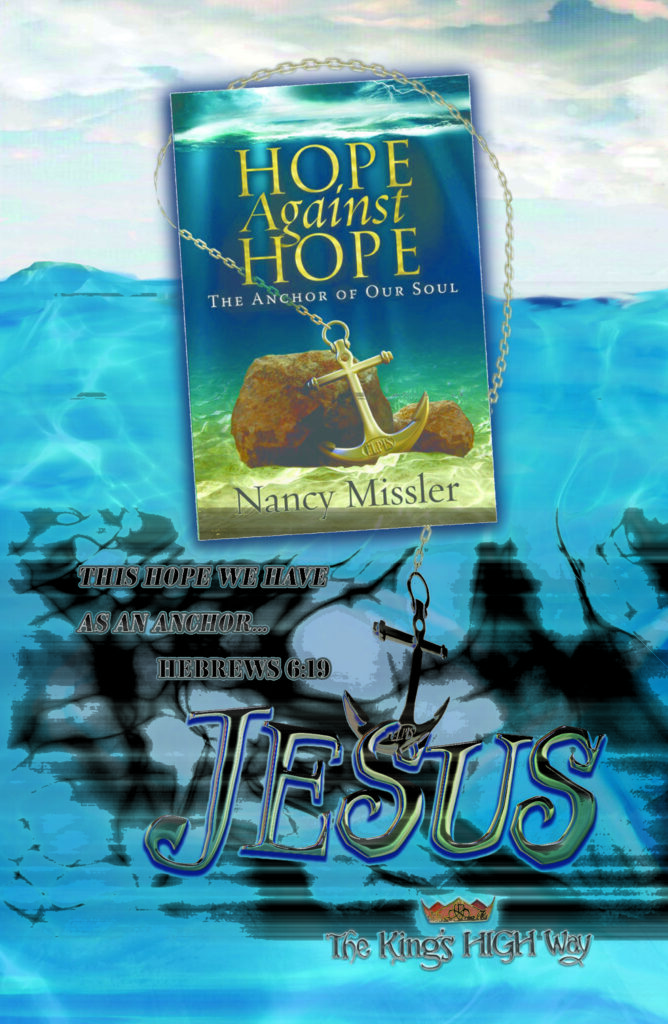 On page 79 she defines the difference between faith and hope:
In my studies and life experiences over the last couple of years, I've come to the conclusion that "faith" is simply the choice to believe and act upon God's Word, whereas "hope" is the choice to trust God's faithfulness to perform that Word in my life. (It's also choosing to endure all that God allows while we are waiting for His promises to materialize. Thus, we desperately need both faith and hope!)
In simple terms, think of "faith" as believing in and depending upon God's Word, whereas "hope" is trusting in and relying upon God's Spirit to perform His Word, no matter how long it takes. Hope is what allows us to "see God" while we are waiting.
Nancy lived out this book and left us a road map of "how to" endure dark and difficult days by understanding God's right now "hope". She makes known God's faithfulness (His Truth) and sheds light on the criticalness of understanding God's Love in times of despair and hopelessness.
Hope is the "right now" message for the Church and would make a great Bible study for the fall.
Together for His Kingdom,
Debbie Holland
---
Prayer Update
Dearest Intercessors,
So much has transpired since I first set out to compose this month's prayer letter in mid June.
Truly, we are living in perilous times, and the words of the apostle Paul in 2 Timothy 3:1-5 are made reality in our every day observation of the God-less (notice the spelling) direction that our country and the world has been headed, and now is going at an even more accelerated pace.
"But mark this: There will be terrible times in the last days. People will be lovers of themselves, lovers of money, boastful, proud, abusive, disobedient to their parents, ungrateful, unholy, without love, unforgiving, slanderous, without self-control, brutal, not lovers of the good, treacherous, rash, conceited, lovers of pleasure rather than lovers of God—having a form of godliness but denying its power. Do not be partakers with them."
There is no doubt that a line is being drawn in the sand. We either stand with Christ in the power of the Holy Spirit, or we fall into politically correct intimidation of the ever-increasing deception of the left-wing liberals who deny the Sovereign God and make a mockery of those who love Him. And with the summer heat, will come even more heated and hateful verbal assassination of the viewpoints, sacred beliefs and even personal character of those who hold conservative and especially Christian world views.
We are witnessing prophecy unfold at an accelerated rate as many of us have seen the news clips of the landmark Christian Church, the Washington Cathedral, open it's doors to a Muslim prayer service, in the name of tolerance and seeking to understand one another's religious beliefs. All the news clips that I saw applauded it as a great step forward in the name of peace and loving acceptance of others views. It was disheartening to say the least. Yet, Jesus Himself told us there would be a great apostasy in the last days. May all of us be among those who do not compromise the Way, the Truth and the Life for the sake of "peace" or politically correct tolerance.
As we cry out to God for repentance as The Church, and for our Nation, may God be merciful to hear our cries and grant us many more days to be the light that this country and the world so desperately need to see.
With Blessings and Christ's Immeasurable Love,
Kathryn Taylor and The King's High Way Staff