Faith In The Night Seasons
Hi Everyone,
There is a question which Christians and theologians have been asking throughout the ages. Why does God allow nights of sorrow to come to men and women of faith? It seems to contradict everything we know and believe about a loving and protecting Father.
As Nancy looked into the story of Job, she gives powerful insight and shines a light upon this mystery when Job speaks at the very end of his affliction saying, "I have heard of Thee by the hearing of the ear; but now mine eye sees Thee…"
(Job 42:5)
Something incredible happened to Job during that night of darkness that he went through. The word "see" is the word ra'ah in Hebrew, which also can mean to "experience". Ironically, it was the darkness that ultimately caused Job to spiritually "see" or experience his Creator as he never had before. During that long night of loss, God's faithful servant was transformed into God's intimate friend. And the Bible ends his story with these remarkable words, "…the Lord blessed the latter end [days] of Job more than his beginning." (Job 42:12)
I have the blessing and honor of speaking and praying with many Christians who are currently enduring a similar season of sorrow and hardship. These are faithful men and women who have continually sought the Lord for direction, loved Him and even taught others about Him. When God allows crushing circumstances to enter our lives, if we are not prepared and do not understand what is happening, we can often find our faith shipwrecked and our trust shattered.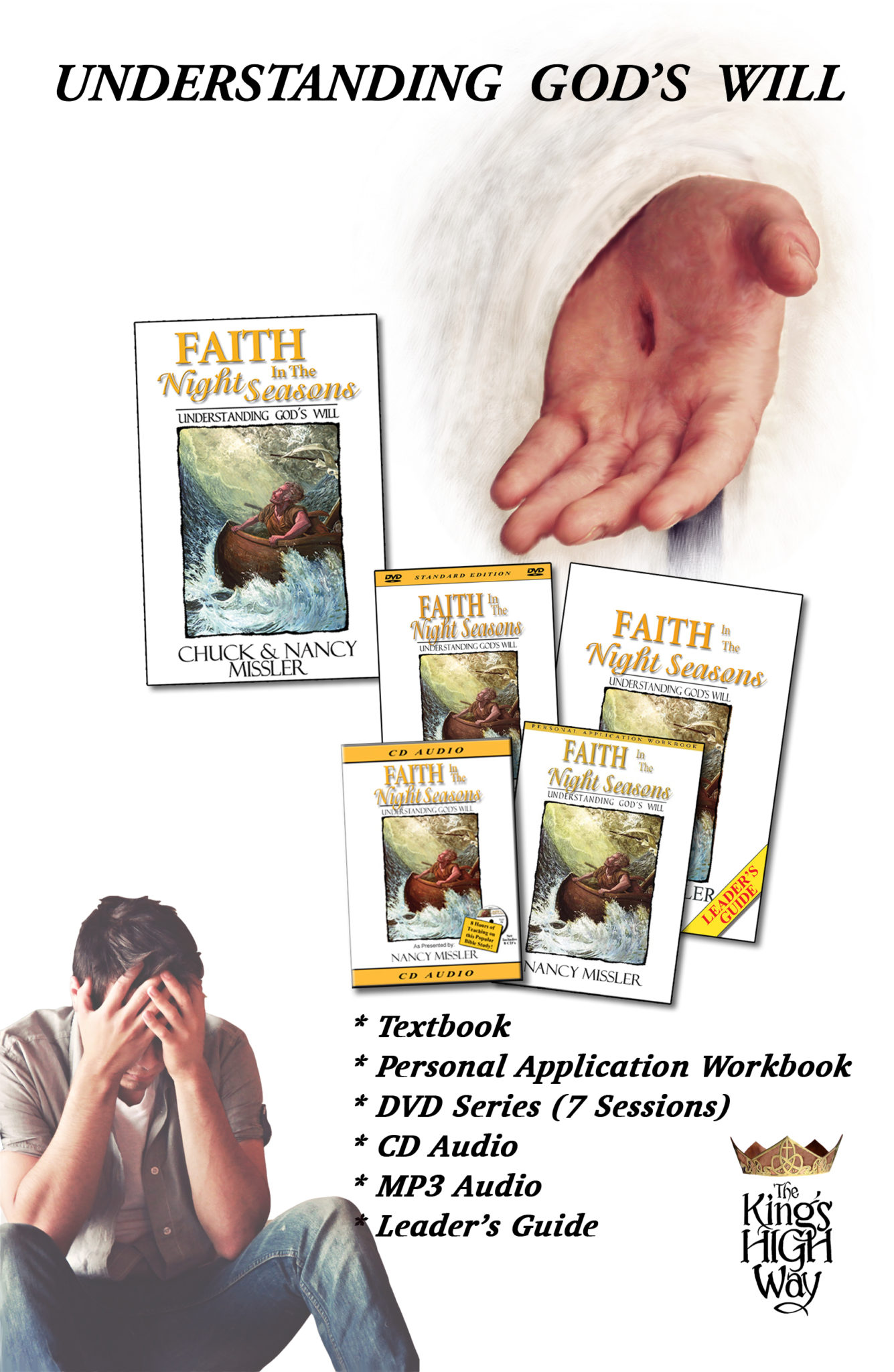 The purpose of "Faith in the Night Seasons" is to encourage, give hope and understanding to those who are currently going through a "night season". And, for those of you who have yet to experience a time like this, that you may get an understanding of "what and why" a night season occurs.
Our Lord has incredible riches planned for all of us and wants us to know Him in an even more intimate way.
En Agape,
Debbie Holland
Director of Ministries- The King's High Way
---
Prayer Update
Dearest Intercessors,Today we want to invite you (in your imagination) to sit by a stream of cool water, surrounded by lush green grasslands of rest and provision and surrender all your anxious thoughts to your Good Shepherd. Let Him restore your weary soul, dear one.
We know some of you need to join us at the feet of our gentle Shepherd as we cast all our cares on Him, knowing that He truly cares for us and is working all things in our lives and in the world for our good and for His ultimate glory! He invites you to simply sit at His feet and gaze into His eyes, and let the reality of His deep, abiding, unalterable LOVE for you wash over you and lift you up from that weary place. Whether it's a burden of physical affliction, financial need, emotional upheaval, a spiritual night season, or a fierce spiritual battle, the Lord knows all about it. He is inviting you to rest at His feet in absolute, utter trust, surrender and dependence upon Him to see you through your season of need. Rest in His Love. Rest on His Promises. Rest in His faithfulness!!!!
"I am still confident of this: I will see the goodness of the Lord in the land of the living. Wait for the Lord; be strong and take heart and wait for the Lord." Psalm 27:13-14
In His Tenacious, Unwavering Love,
Kathryn Taylor and The King's High Way Team