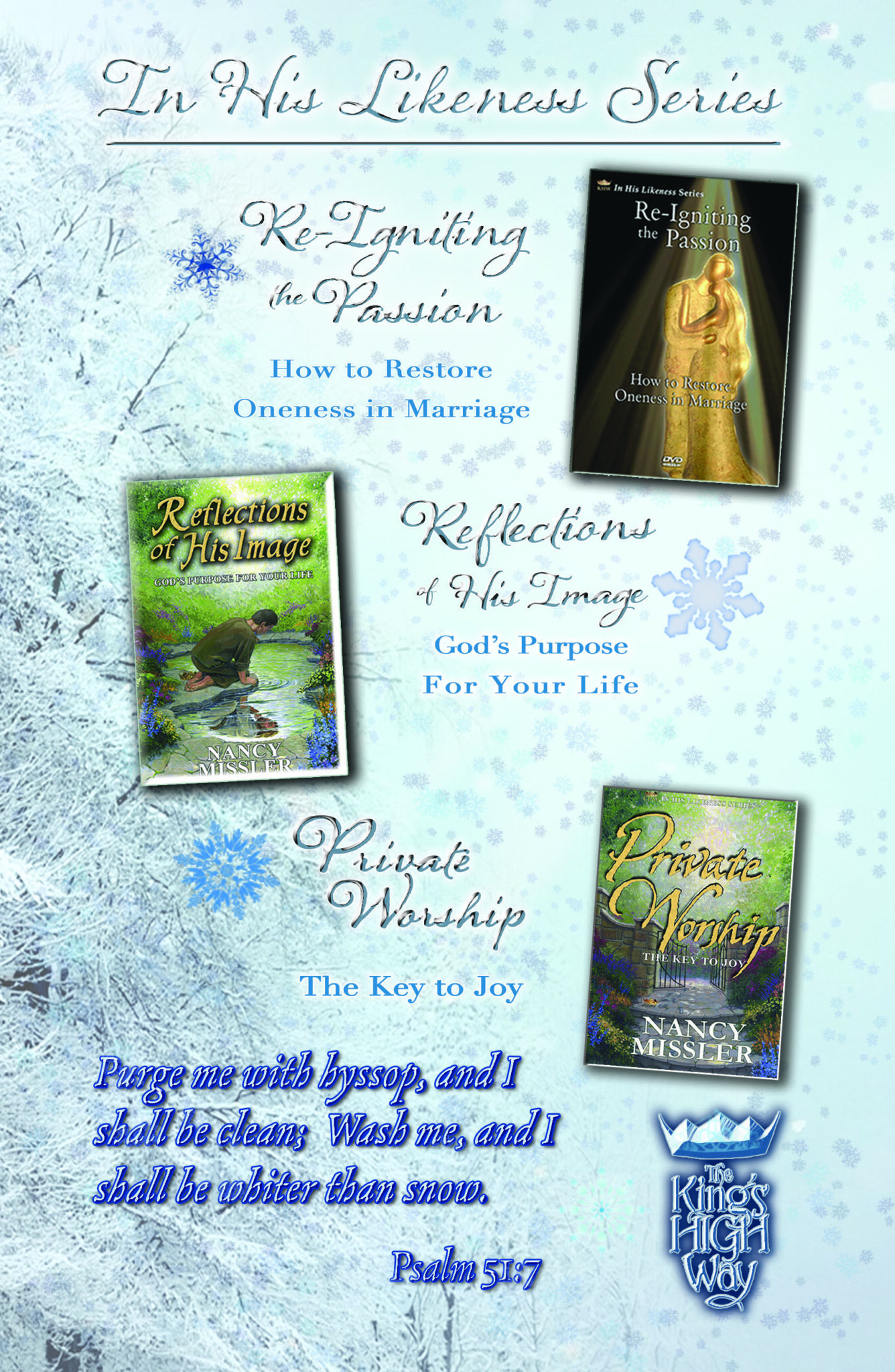 Hi Everyone,
I can't believe a year has gone by since my beloved friend and partner in ministry- Nancy- went home to be with the Lord. Friends of the ministry are continually asking and wondering what's happening with Nan's beloved Bible studies.
The King's High Way team is alive and ready to continue spreading the anointed messages and teachings that God gave Nan over the last 30 years of her life. In fact, I truly believe these Bible studies are being revived for today and the future generation of the Church.
Have you been praying about teaching a Bible study this fall? Or maybe the Lord has been speaking to you about mentoring, discipling, or encouraging someone in their Christian walk. We have all the tools to assist you for ministering the Word.
I get the privilege and honor of speaking, praying and encouraging many leaders, teachers, counselors and pastors all over the world. I hear over and over again, the radical changes that took place in their own personal lives, as well as, the lives of those they were teaching or mentoring when they were using any of our materials—because they are God's Word made practical.
If you need direction on where to begin, please don't hesitate to call our toll free number at 866-775-5464 or 208-772-6976 and ask for Debbie. I'm here to help in any way that I can.
All God needs is a willing vessel… HE will fill it!
Agape,
Debbie Holland
KHW Director of Ministries
I have been crucified with Christ; it is no longer I who live, but Christ lives in me…Galatians 2:20
---
Prayer Update
Dearest Intercessors,
The prayer letter is later getting to you this month because I deliberately wanted to wait until after the election to express our comments. And with the Thanksgiving holiday just around the corner, we thank our Father God for His EXTREME MERCY upon this Nation by not giving us over to a blatantly liberal left, antichristian, socialist agenda for another four years or possibly eight. We are grateful! We are thankful! And we realize that His mercy carries with it a greater commitment and responsibility to pray for our President-elect Mr. Trump and his family, Mr. Pence and his family, the new cabinet he will rely on for wise counsel and the entire Congress. More than ever we need to be interceding for our Nation. More than ever we need to be interceding for the Body of Christ to be the Love of Christ to others while we still have opportunity.
We know President-elect Trump will face daunting challenges. He is not coming up against flesh and blood, as Scripture tells us, but against rulers, principalities and powers of darkness in the unseen realm. As a friend and defender of Israel, we believe that is the primary reason God placed him in the office of President.
Pastor James Robison, who has been instrumental in Trump's evangelical influence, called Mr. Trump to congratulate him on his victory and this is part of what he said to Robison. "James, surround me with prayers! Surround me. And don't let me ever forget it."
Donald Trump has been raised up at this time of decline in our Nation's history . May God continue working in his heart and make him into a man after God's own heart who will lead this Nation in humble repentance and reliance upon Him once again.
Proverbs 29:2 declares "When the righteous thrive, the people rejoice; when the wicked rule, the people groan." We have been groaning as a righteous people for many years now. We now have renewed hope for rejoicing. May our gracious God be glorified through His Body and this Nation once again!
In Christ's Unfailing Love,
Kathryn Taylor and the King's High Way Staff